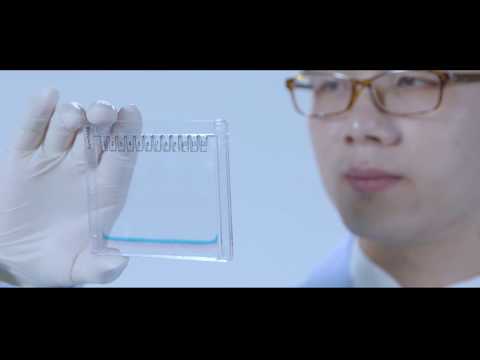 Bundle offer until 31.07.2020 - save CHF 1'930.00: Use code: EBL20
Bundle offer until 31.07.2020 - save CHF 1'930.00:
Buy 1 eBlot system and get for free:
1 GenBox Mini Electrophoresis tank (Art.No. L00780)

10 Boxes Surepage precast gels (100 gels) - choose between 10/12/15 wells and different concentrations



Description
The eBlot® L1 wet protein transfer system is a highly efficient western blotting transfer system that uses a novel technology.
eBlot® L1 combines the high reproducibility and efficiency of the traditional wet transfer with the speed and convenience of other fast transfer systems. The device allows efficient blot transfer of small, medium and large molecular weight proteins within 9-17 minutes.
FEATURES
Comprehensive: Outstanding performance for small, medium and large proteins
Convenience: Simultaneously transfer two mini gels
Compatible: Highly compatible with different types of precast or homemade gels
Simple: Easy to assemble, one button operation and customizable programs available
Why eBlot?
Conventional wet transfers are cumbersome, require experience and a great deal of time spent on consumable preparation. The transfer times usually vary from 1 hour to overnight. With eBlot fast wet transfer system, you can achieve excellent transfer efficiency without sacrificing speed.
Convenience
eBlot L1 allows fast and efficient transfer of 1 or 2 mini gels at a time. The setup takes less than 2 minutes and avoids the mess of a traditional wet transfer with our easy to assemble dry sponge sandwich.
Flexibility
Our customizable protocols allow optimal flexibility for your research. The unit comes with standard protocols designed to transfer larger proteins (up to 400kD) or opt for a shorter transfer time for smaller size proteins (up to 100kD).
Get for free:
1 GenBox Mini Electophoresis Tank (Art.No. L00780)



Value CHF 730.00
Run 1 or 2 mini gels at the same time and the unique design accommodates SurePAGE, ExpressPLUS, Bolt, and NuPAGE gels.
The GenBox mini tank is designed for ultimate convenience and consistent performance compared to traditional electrophoresis tanks. Discover the versatile and easy to use GenBox mini tank for your gel electrophoresis and blotting needs.
Robust-Achieve reproducible protein separation with GenBox
Efficient-Conveniently run and blot your gels in the same tank
Flexibility-Compatible with popular precast gels
Convenience-Run up to 2 mini gels
Get for free:
10 Boxes SurePAGEᵀᴹ precast mini polyacrylamide gels (100 gels)



Value CHF 1'200.00
Compatible with a lot of gel tanks!
GenScript SurePAGE, Bis-Tris, 10 cm x 8 cm gels are high-performance precast mini polyacrylamide gels with a special design that allows large sample loading volumes. The unique formulation of the gel and cassette design enables superior band resolution and significantly improved band evenness.
SurePAGE gels are cast in a neutral pH buffer that minimizes polyacrylamide hydrolysis, increases gel stability and minimizes protein modification.
| | | | |
| --- | --- | --- | --- |
| % Acrylamide | Wells No. | Well volume | Art.No. |
| 4-12% | 10 | 12 | 15 | 80 | 60 | 40 μl | M00652 | M00653 | M00654 |
| 4-20% | 10 | 12 | 15 | 80 | 60 | 40 μl | M00655 | M00656 | M00657 |
| 8-16% | 10 | 12 | 15 | 80 | 60 | 40 μl | M00658 | M00659 | M00660 |
| 8% | 10 | 12 | 15 | 80 | 60 | 40 μl | M00661 | M00662 | M00663 |
| 10% | 10 | 12 | 15 | 80 | 60 | 40 μl | M00664 | M00665 | M00666 |
| 12% | 10 | 12 | 15 | 80 | 60 | 40 μl | M00667 | M00668 | M00669 |