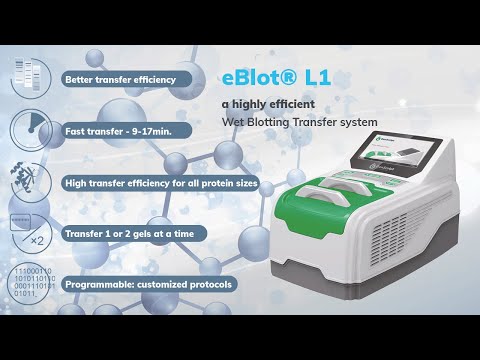 Fast and complete transfer in 9-17 minutes - best transfer efficiency.

Description
The eBlot® L1 wet protein transfer system is a highly efficient western blotting transfer system that uses a novel technology.
eBlot® L1 combines the high reproducibility and efficiency of the traditional wet transfer with the speed and convenience of other fast transfer systems. The device allows efficient blot transfer of small, medium and large molecular weight proteins within 9-17 minutes.
Comprehensive: Outstanding performance for small, medium and large proteins
Convenience: Simultaneously transfer two mini gels
Compatible: Highly compatible with different types of precast or homemade gels
Simple: Easy to assemble, one button operation and customizable programs available
Why eBlot?
Conventional wet transfers are cumbersome, require experience and a great deal of time spent on consumable preparation. The transfer times usually vary from 1 hour to overnight. With eBlot fast wet transfer system, you can achieve excellent transfer efficiency without sacrificing speed.
Convenience
eBlot L1 allows fast and efficient transfer of 1 or 2 mini gels at a time. The setup takes less than 2 minutes and avoids the mess of a traditional wet transfer with our easy to assemble dry sponge sandwich.
Flexibility
Customizable protocols allow optimal flexibility for your research. The unit comes with standard protocols designed to transfer larger proteins (up to 400kD) or opt for a shorter transfer time for smaller size proteins (up to 100kD).
Testimonial
Customer from USZ | Department of Endocrinology, Diabetology and Clinical Nutrition:
"eBlot offers a reliable and efficient transfer solution for tranditional Western blot, we are happy about the device and would highly recommend it to other people."
eBlot™ L1 helped Dr. Antoni Barriento's lab transfer their 1200 kD protein in 20 minutes.
"This is the first time we have used one of these fast-transfer instruments. I decided to test this one because uses a wet transfer system, rather than semidry, which yields less efficient transfers of large complexes even when using classical transfer systems."
"Our major interest was to minimize the transfer of assembly mitochondrial oxidative phosphorylation complexes and supercomplexes which are large membrane-embedded macrostructures of sizes that range between ~200 kDa and several megadaltons."
Dr. Antoni Barrientos,Ph.D.
University of Miami Miller School of Medicine
*Figure prepared by Dr. Alba-Timon-Gomez and Dr. Antoni Barrientos. University of Miami School of Medicine
Blue Native (BN)-PAGE analysis of mitochondrial respiratory chain complexes and supercomplexes using an eBlot™ fast and efficient wet transfer from GenScript.
Cellular extracts from HEK293T cells treated with non-targeting (NT) or siRNAs targeting the indicated genes involved in complex IV assembly, prepared in the presence of digitonin, were loaded onto a 3-12% native gradient polyacrylamide gel and separated by BN-PAGE. Following electrophoresis, the proteins were transferred to a pvdf membrane using in 24 minutes, using the Blot L1 protein transfer system from GenScript. To visualize mitochondrial respiratory chain complexes and supercomplexes, the membranes where subsequently decorated with antibodies against COX5B (a complex IV subunit), CORE2 (a complex III subunit) and SDHS (a complex II subunit).