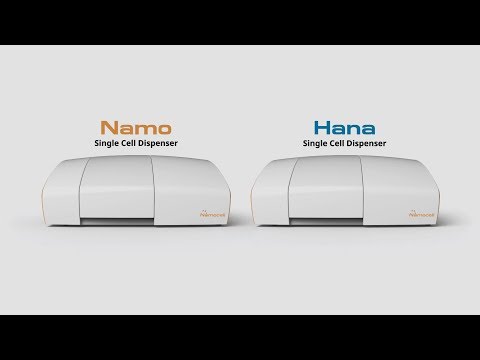 Dispenses single cells into 96-well plate in less than 1 minute.
Captures 1 in 100 million cells in 5 minutes.

Description
Namocell has combined the benefits of three key technologies: flow cytometry, microfluidics and liquid dispensing. The combination of these techniques is unique and enables users to accomplish single cell sorting and dispensing in one step, providing fast, efficient and gentle isolation of single cells.
Namo and Hana Single Cell Dispensers are capable of isolating single cells in a high throughput manner that is still gentle on cells so that they can maintain their viability. It is easy to operate and requires no prior experience or training with flow cytometry.
Namocell's microfluidic cell cartridges ensure that there is no sample-to-sample cross contamination and keep the sample sterile. Cartridges that contain the sample material can be swapped out so there is no need for cleaning process.
This benchtop device uses proprietary microfluidics technology to sort and dispense single cells directly into 96-well or 384-well plate. It simplifies and empowers a number of single cell applications, including cell line development, single cell genomics, monoclonal antibody development, CRISPR selection, synthetic biology, circulating tumor cells (CTCs) isolation and circulating fetal cells isolation. It is affordable, user-friendly, and requires almost no training to operate.
Laser wavelength: 488 nm
Detection channels: SSC + FSC
FL1 533 nm (FITC/GFP) | FL2 585 nm (PE/PI)
Sorting pressure: less than 2 psi
Dispensing volume: 1 ul
Dispensing format: 96-well or 384-well plate
Sample volume: 750 ul
Weight: 10kg
Dimensions: 49 x 36 x 21cm
Webinar "Fast & Gentle Single Cell Isolation on Your Benchtop"
FAST
Single cell dispensing in
1 min/96-well plate, and
3 min/384-well plate
Bulk sort 100M cells in 5 min
2 min system initialization
FLEXIBLE
100 cells minimal input
Sample density can range from 100 cells/mL to 1B cells/mL
AFFORDABLE
Low cost of total ownership
EASY
Software-assisted prompts ensure foolproof operation
Automated initialization and shutdown routines
Zero maintenance
COMPACT
Benchtop, lightweight
Fit in tissue culture hood
GENTLE
Low pressure ensures cell viability and integrity
Hana Advantages over Cell Sorters
| | | |
| --- | --- | --- |
| | Cell Sorter | Hana Single Cell Dispenser |
| Pressure | 20 – 70 psi | Less than 2 psi |
| Initialization time | 45 min | 2 min |
| Sorting speed | 2000 – 20'000/s | 10 – 300'000/s |
| Channels | 16 | 2 or 3 |
| Minimum cells | 200'000 | 100 |
| Droplet size | 0.001 – 0.005 ul | 1 ul |
| Sheat | 1 – 2 L/hr | 15 mL/hr |
| Sterile sorting | Difficult | Easy |
| 96-well sorting | Optional | Standard |
| System clogging | Yes | No |
| Price | €€€ | € |
Unique Microfluidic Cell Cartridge
Low flow pressure preserves cell viability
Sorting and dispensing in a single step
prevents aerosol formation
No cross-contamination
Accessories