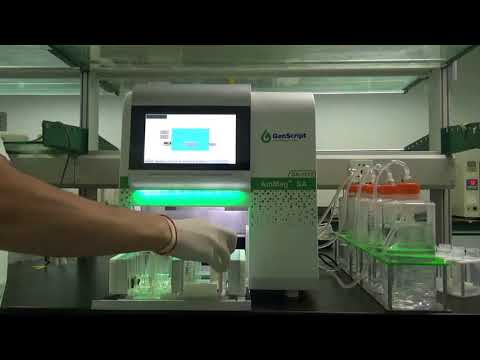 Purify large number of protein or antibody samples in hours instead of days.
Description
The AmMag™ SA automates the protein or antibody purification using magnetic beads. The instrument is capable of using 6-well deep well culture plates or 50 mL tubes. In combination with GenScript's antibody or recombinant protein binding magnetic beads the system offers high throughput with high capacity. For antibody purification, the newly released AmMag protein A magnetic beads allow cleaning of the beads with NaOH to increase the reusability.
For secreted proteins magnetic beads may be added to the cell culture so the binding can occur during the expression. Intracellular proteins can be bound once the cell lysis is accomplished. No centrifugation or filtration are necessary saving you hours of pre-processing time.
The AmMag™ protein A magnetic beads and racks make it easy to purify high number of samples in a short time. The high binding capacity base stable AmMag™ magnetic beads used in conjunction with the ergonomic AmMag™ magnetic racks allow the fast and efficient purification of proteins and antibodies directly from cell culture or lysate without the need for centrifugation or filtration.
Cuts your protein/antibody purification time from days to hours
Purify up to 12 samples at a time
Sample volumes from 5 ml to *50 ml
Up to 80 mg of protein or antibody per sample
Typical cycle time for 12 samples is less than 30 minutes
* Larger cell culture volumes can be used (up to 1-2 liters) if the magnetic beads are collected using magnetic rod and transferred to the 50 ml tubes/6-deep well plates.
Features and benefits:
Shorten the purification time
Save time and labor
Eliminate the need for centrifugation and filtration
Complete washing and elution process automatically
Closed environment to avoid endotoxin contamination
System capabilities:
Purify up to 12 samples at a time
Sample volumes from 5 mL to 50 mL
Isolate as much as 200 mg of protein or antibody per sample
Typical cycle time for 12 samples is less than 30 minutes
The instrument is programmable to accommodate different protocols
Specifications
| | |
| --- | --- |
| Throughput | Up to 12 Samples/run |
| Beads volume (samples) | Up to 2 mL settled beads |
| Sample Volume | 5 mL to 50 mL |
| Compatibility | 15 mL tubes and 50 mL tubes |
| Size LxWxH (mm) | 545 x 515 x 545 |
| Weight | ~ 50 kg |
| Power Parameters | 110 ~ 240V VAC, 50/60 Hz |