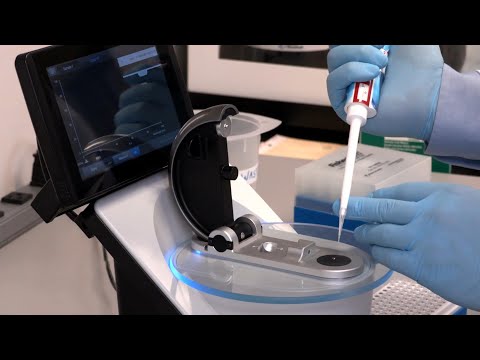 Quantify and qualify DNA, RNA, and protein samples in seconds with only 1-2 µL.
Description
Prevent costly delays with an enhanced understanding of sample quality using the NanoDrop™ One Microvolume UV-Vis Spectrophotometers.
The Innovative Acclaro™ Sample Intelligence technology is built into every instrument for improved measurement accuracy and contaminant identification. Quantify and qualify DNA, RNA, and protein samples in seconds with only 1-2 µL, and obtain full-spectral data before you decide to use samples in downstream applications.
The NanoDrop™ OneC instruments save you days of troubleshooting experiments and streamline workflows with these enhancements:
21 CFR Part 11 Compliance


The optional Security Suite for NanoDrop One/OneC allows the instrument to be used in a 21 CFR Part 11 compliant lab.

Walk-Up Convenience


A standalone unit with a high-resolution, touchscreen interface and tablet-basedoperating system features guided method analysis to save you time and bench space.
Acclaro Sample Intelligence
Identifies contaminants, monitors sample column for bubbles, provides feedback about sample quality and information to help with troubleshooting.
Minimal Sample Preparation
Powerful auto-range pathlength technology means accurate measurements for highly concentrated samples without the need for sample dilutions. No prior knowledge of sample concentration needed.
No Consumables Required
The patented NanoDrop sample-retention system enables direct microvolume measurements from 1–2 µL of sample. Eliminates the need for expensive slides or special accessories.
Fast and Easy Measurements
Ergonomic design with tilting and sliding screen accommodates both left- and right handed users. Auto-Measure feature adds speed and convenience delivering results with full-spectral data in seconds.
Versatile Data Management
Print results for your laboratory notebook using an optional thermal printer or tag and transfer data via USB, Ethernet, Wi-Fi or an external computer. Provides flexibility for extended analysis and electronic archiving.
Additional Cuvette Position
The NanoDrop™ OneC spectrophotometer adds experimental flexibility and increases the dynamic range. Use cuvettes for measuring dilute samples, kinetics experiments and optical density measurements of bacterial cultures. Includes cuvette temperature control and stirring. Cuvette position can be used with instrument arm up or down.
Specifications
21 CFR Part 11 Compliance

Yes – with the optional Security Suite for the NanoDrop One/OneC PC control software. This suite includes Thermo Scientific Security Administration and Thermo Scientific Audit Manager. These two pieces of software enable users to run the NanoDrop One/OneC PC control software in a lab that needs to comply with FDA 21 CFR Part 11.

Applications

Nucleic Acid A260, A260/A280, A260/A230 and Labeled Nucleic Acids;
Protein A280 and A205, Protein Pierce 660, Protein Bradford, Protein BCA, Protein Lowry, Labeled Proteins, OD600, Kinetics, UV-Vis, and Custom Methods

Connections

Three USB-A ports, Ethernet, Bluetooth™ and Wi-Fi 

Detection Range

dsDNA: Pedestal: 2.0 ng/µL; Cuvette: 0.2 ng/µL
BSA (IgG): Pedestal: 0.06 (0.03) mg/mL; Cuvette: 0.006 (0.003) mg/mL

Languages

English, Spanish, Polish, Korean, Japanese, German, French, Chinese

Pathlength (Metric)

0.030 to 1.0 mm auto-ranging

Photometric Accuracy Instrument

3% at 0.97 A, 302 nm

(Absorbance expressed at Abs/mm at 25°C)

Spectral Bandwidth

≤1.8 nm (FWHM at Hg 254 nm)

Wavelength Range

190 – 850 nm

Lower Limit of Detection

Pedestal: 2 ng/μL (dsDNA) 0.06 mg/mL (BSA) Cuvette: 0.2 ng/μL (dsDNA) 0.006 mg/mL (BSA)

Maximum Concentration

Pedestal: 27,500 ng/μL (dsDNA) 820 mg/mL (BSA)

Instrument Control

Built-in touchscreen or computer software

Software Compatibility

Standalone control.
PC Software: Windows® 10 Professional (64 bit)

Power Consumption

Operating: 12–18 W

Standby: 5 W