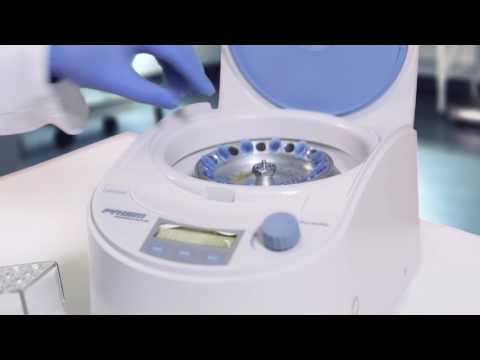 An easy-to-use, high performance microcentrifuge in a modern and attractive form.
Description
The Prism™ and Prism™ R centrifuges are the premier models to Labnet's popular microcentrifuge line. These products feature powerful brushless motors and an intuitive control panel.
The Prism™ ambient microcentrifuge is designed to keep samples close to ambient temperature, even when operating at maximum speed. It can also be used in a cold room.
Includes easy access rotor with optional StripSpin
Quiet operation with easy to use control panel
Quick acceleration and deceleration time
Speed in both microcentrifuge units is easily set and displayed in either rpm or rcf. Operation of the units can be timed, continuous or momentary using the "Quick" button. Vibration free operation is ensured by an isolation system. In the event of a significant imbalance, operation of the centrifuge is automatically stopped for safety. Deceleration at the end of a run is very quick but will not disrupt samples.
The Prism™ centrifuge is supplied with a uniquely designed 24 x 1.5/2.0 mL rotor that allows easy access to the tops of the sample tubes along their length and contains the sample in the event of tube failure. Adapters are available for smaller tubes as well as PCR strips. The rotor is seated on a tapered shaft which facilitates easy removal for cleaning and autoclaving.
Specifications
| | |
| --- | --- |
| Speed range | 500 to 15'000rpm |
| Maximum RCF | 21'200 x g |
| Maximum capacity | 24 x 1.5/2.0mL |
| Timer | 0.5 to 99 minutes or continuous |
| Dimensions (W x D x H) | 24 x 35 x 19cm |
Accessories