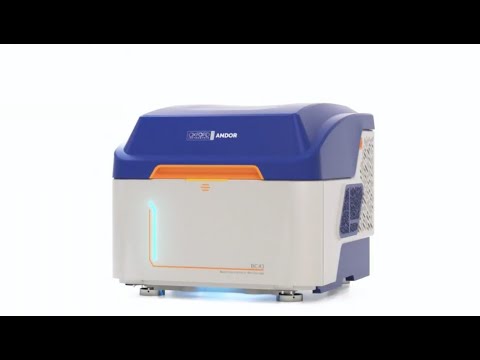 Andor's new Benchtop Confocal delivers amazing images at the push of a button.
This plug and play confocal system has been designed with cost, performance and accessibility in mind, ensuring hassle-free, high-quality 2D & 3D imaging for busy researchers.
Description
BC43 is a super-compact unit that is rich in features and benefits, making it the ideal microscope for early-stage researchers and experienced microscopists alike.
With no requirement for a darkroom, researchers can access confocal technology on the same bench as their samples. This, coupled with the fast learning curve, allows individual users and entire labs to become much more productive, without compromising results.
Confocal, Widefield & Transmitted Light Microscopy All-In-One
The BC43 benchtop confocal utilizes imaging technology from our award-winning Dragonfly confocal system and provides fast and remarkably flexible imaging. BC43 allows routine imaging from brightfield to confocal without the hassle.
Feedback from BC-43 workshop
"I have to admit, I was impressed with the BC43 system. It's incredibly user-friendly and the speed at which it acquires images for the 3D projection is great! Not to mention, the image quality was also good. If the BC43 system becomes available at our facility, I would absolutely love to use it. I can see how it would make our work so much easier and more efficient."
Widefield Fluorescence Microscopy
Transmitted Light Microscopy
Confocal Microscopy
Capture superb confocal images at least 10 times faster than point scanner-based systems with the Andor Benchtop Confocal!
BC43 is a prime solution for 3D imaging of thick samples. A high sensitivity, high-speed imaging camera makes it perfect for live-cell confocal imaging.
A motorised XY stage allows multiple point acquisition, large organism montages and multipoint scanning resulting in outstanding productivity from a single imaging experiment.
Widefield imaging:
Offers the gentlest illumination mode for samples that are super-sensitive to light
Detects lower sample signals than in confocal mode
Offers the fastest imaging speeds to capture dynamic processes in live cells
Use ClearView™ GPU to remove sample blur and enhance resolution, ensuring the best quality images.
Transmitted Light Microscopy
BC43 also delivers two different transmitted light options for amazing imaging flexibility:
Use Brightfield Mode to visualise the development of larger organisms whose structures naturally deliver high contrast images
For thinner samples and/or those with higher transparency, use Differential Phase Contrast (DPC) mode to draw out their structure
You can also mix and match modes like DPC and Widefield for even more imaging flexibility!
High-Speed Confocal Imaging for Biologists
The BC43 Benchtop Confocal has been developed in collaboration with leading biologists; for use across life science applications, and is designed to be part of a single room workflow. BC43 will bring instant clarity and depth to your research, whatever your sample, in ways previously only found in larger, more complex and expensive imaging systems.
Cell Biology
BC43 conquers the diverse range of protocols that Cell Biology experiments demand: from a simple 2D snapshot of a cell to understanding dynamic processes with time-lapse.
BC43's unrivalled clarity and speed will save you time without compromising resolution (X,Y or Z) or field of view.
Confocal mode for fast, high-resolution imaging of tissues
Widefield mode for higher sensitivity and maximum speeds
Built in GPU-based ClearView™ technology boosts image clarity
Developmental Biology
Cut through the challenges of your 3D world and capture images in perfect clarity – from the very first rounds of cell division to the fully developed organism.
Extract crisp 2D images or explore stunning 3D volumes in a fraction of the time you're used to. Andor's Benchtop Confocal delivers fast, high-resolution imaging of developing model organisms such as zebrafish and Drosophila.
Image deeper than conventional fluorescence microscopes
Boost productivity 10-fold compared with traditional confocals
No sacrifices to resolution, field of view or 3D detail for speed
Tissue Imaging
Capture stunning 2D and 3D images from live tissue models to whole cleared-tissue preparations.​
BC43 is a true workhorse instrument for large sample imaging, capturing in a tenth of the time of conventional confocal systems and imaging deeper than widefield epifluorescence with deconvolution or digital clearing.​
Time-saving, large-view, high-resolution imaging of tissue.
Capture huge samples with tiled volume imaging and stitching​
Innovative analysis tools available with Imaris: machine learning object classification, spatial analysis, volume and morphology and many more.
Core Facilities
Andor's Benchtop Confocal is a compact, but fully featured system for routine imaging. It can be the imaging workhorse you are looking for, freeing up your sophisticated systems with advanced tools for those who need them.
Simplicity of use has been designed into BC43 to reduce training time and ongoing support of users, enabling labs and facilities to become more efficient.
Researchers will rapidly become competent in acquiring excellent 3D images, and higher multi-dimensional experiments on their own.
Four excitation lines (405, 488, 561 & 640nm)
Up to 5 imaging objectives
Multiple imaging modes offers flexibility whatever the sample
Powerful and Intuitive Acquisition Software
At the heart of BC43 is a software that is not only feature-rich and flexible to your needs, it is easy-to-use as well:
Imaris rendering engine – stunning real-time 3D images
Clear and concise user-interface – acquire images in no time
Multi-dimensional imaging protocols – advanced 3D time lapse or multi-position montage made easy
Comprehensive Image Analysis Software with AI Tools
BC43 comes with an introductory Imaris package, allowing users to:
Visualise your 2D/3D/4D images in the world's leading interactive microscopy image analysis software
Generate isosurface reconstructions for better interpretation and presentation of raw images
Create high-resolution snapshots and multi-dimensional movies with ease
Use Imaris Arena to manage your microscopy images on local and network drives.
Add Imaris modules, which include a machine learning object classifier, to explore the subtle, yet biologically important interactions amongst and within cells. Identify, track, and quantify the cells, organelles and proteins within your images.
Specifications
Microscope Unit - Imaging Modes

High-speed confocal
Widefield epifluorescence
Transmitted light – brightfield & differential phase contrast

Microscope Unit - Imaging Methods

Single colour, multicolour, z-stacking (volume), time-lapse, multi-position, multi-well, montage and 2/3D stitching

Microscope Unit - ClearView GPU

Clears image of non-specific sample background signal and improves resolution beyond the normal optical limits

Camera - Resolution

6.5 um pixel; 2048 x 2000 pixels (4.1MP)

Camera - QE2

Up to 82%

Camera - Field of view (mm)

18.4mm (diagonal)

Camera - Cooling

0°C

Camera - Images

16-bit, monochrome

Illumination - Fluorescence

4 fixed wavelengths of

Illumination - Transmitted light

Broad spectrum visible light LED

Optics - Objective Lens Nosepiece

Motorised 5 position turret

Optics - Objective Magnifications

BC43 is supplied with 2x objective for sample overview.

Select additional supported objective lenses from 10x to 60x magnification

Optics - Precision motorised x,y stage

Travel Range = 100mm x 80mm

Resolution = 10nm

Optics - Z-Control & Focus

Range = 14.5mm

Optics - Autofocus "Seek & Lock" Technology

Sample "Seek & Lock". Finds focal plane for new sample and maintains focus stability during time-lapse experiments.

Optics - Sample Vessels Supported

Glass slides (25 by 75mm)
Culture dish (35mm diameter)
Multiwell plates (6, 12, 24 & 96)
Multiwell chamber coverslip (2, 4, 8).

Optimal imaging through glass, for imaging through plastic vessels, consult your sales representative

Optics - Incubation (option)

Stage-top incubator. Sliding lid for easy sample access and exchange. Objective heater for oil-immersion objectives.

Workstation

WindowsTM 10 software
64GB DDR4 RAM
512GB PCIe
SSD Boot drive
4GB Graphics Card
2TB Image data storage (option to add more)
Window 10 operating system
Fusion control and BC43 edition of Imaris Software
Monitor 24inch